Mission County Park
Saturday, April 17, 2021
10am-2pm
Come out and enjoy a day on the water at the 6th Annual Mission Reach Flotilla Fiesta!  This Official Fiesta event, presented by the San Antonio River Foundation and San Antonio River Authority includes beer, food trucks, music, and best of all an opportunity to play on the river! You can expect to…
Try out kayaking on the San Antonio River for FREE (no registration required)
Participate in fun family outdoor activities including a climbing wall, trampoline, slide and inflatable obstacle course
View and judge decorated boats, constructed with recycled materials, from the area school and youth organizations that will be competing in the River Foundation Boat Competition
The Mission Reach Flotilla Fiesta will show you and your family a watery new world in which to shout VIVA!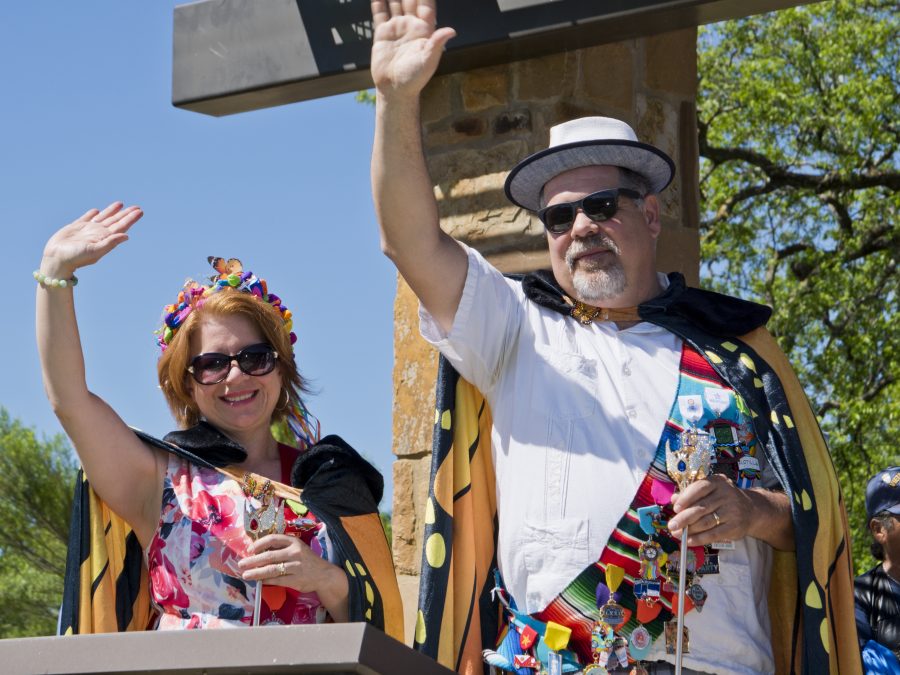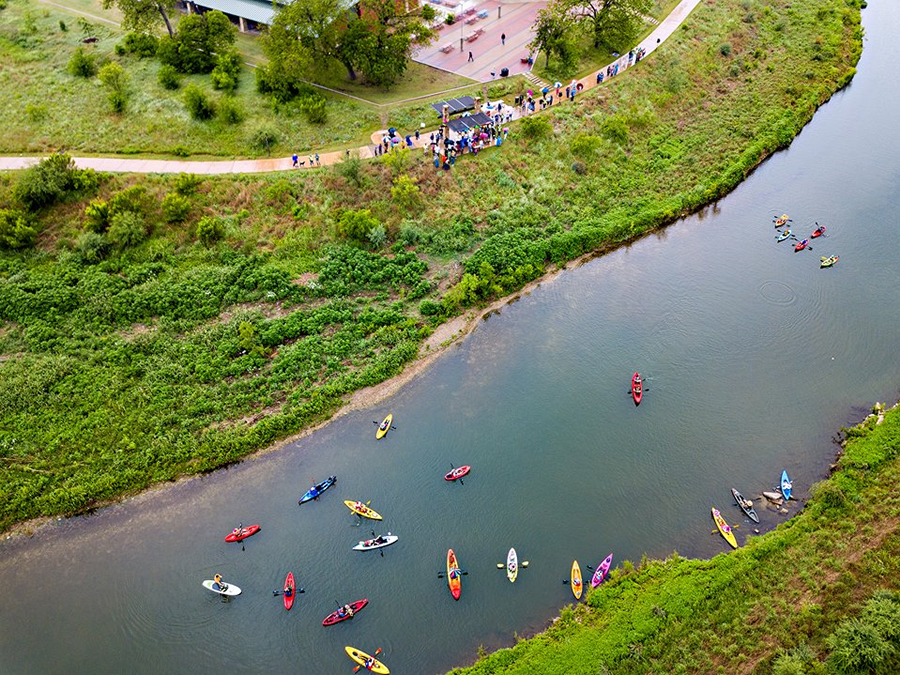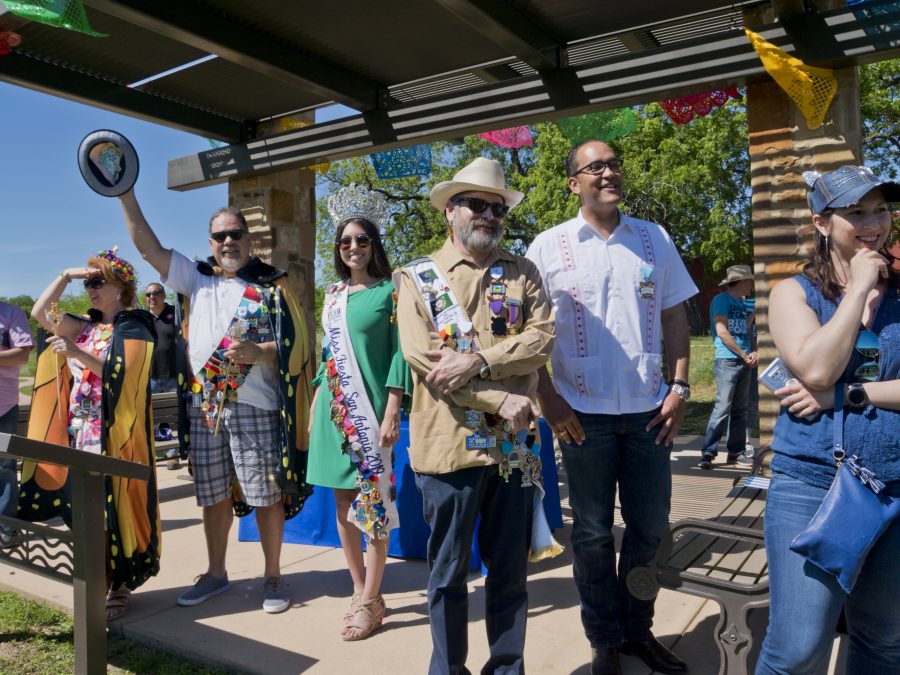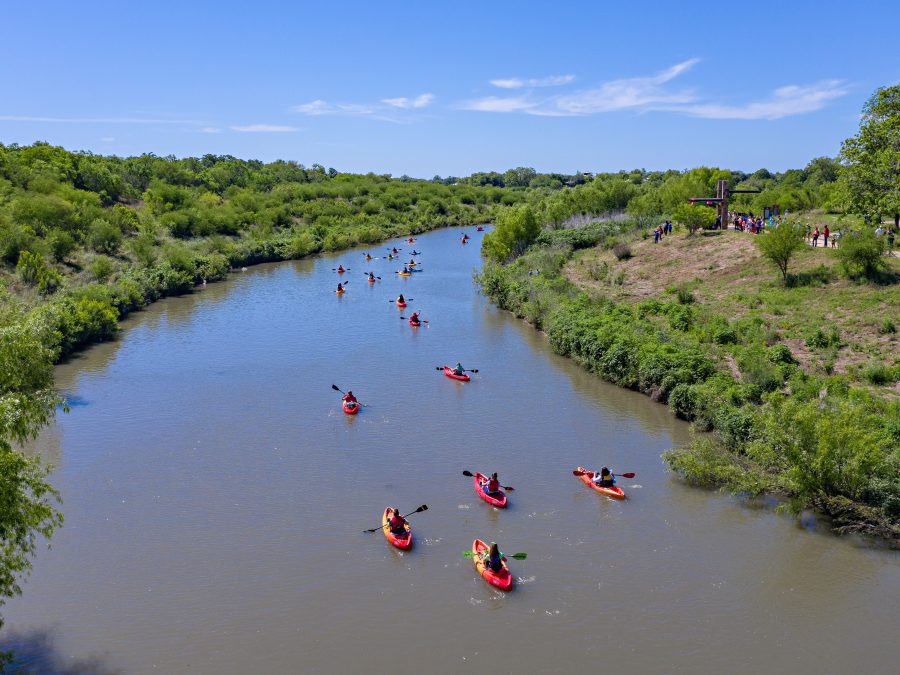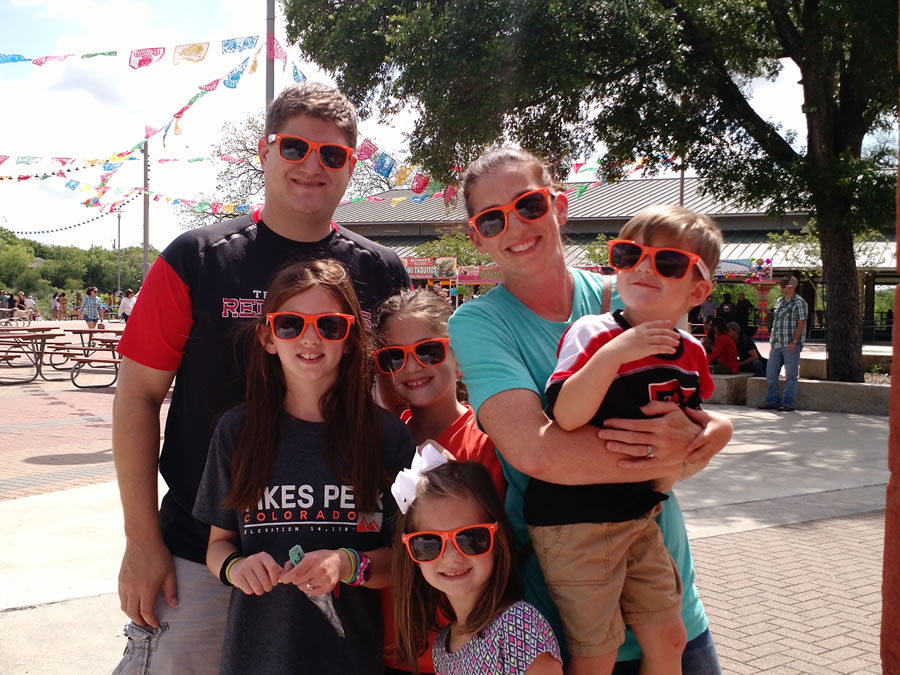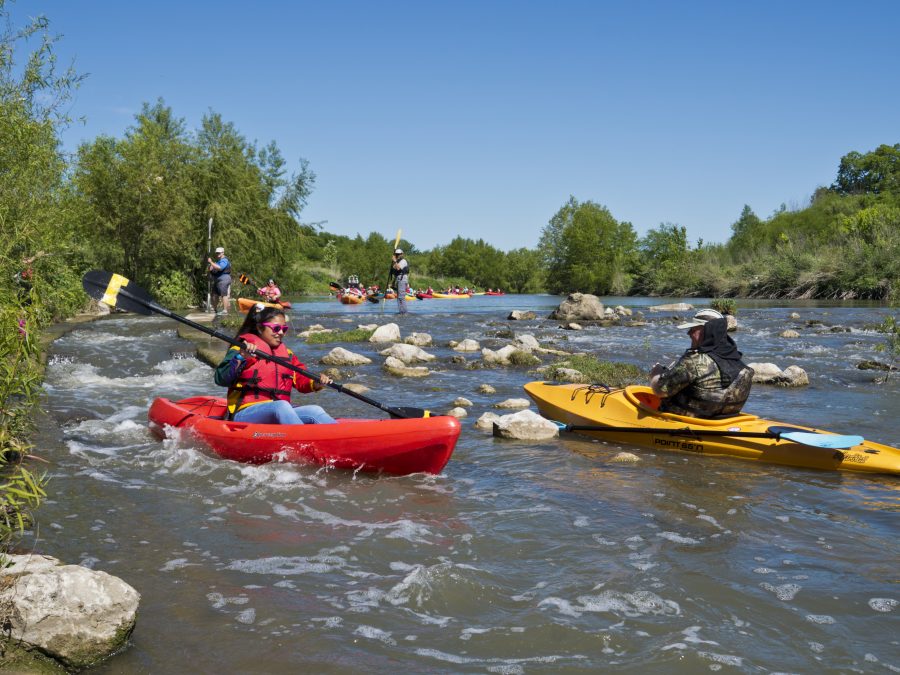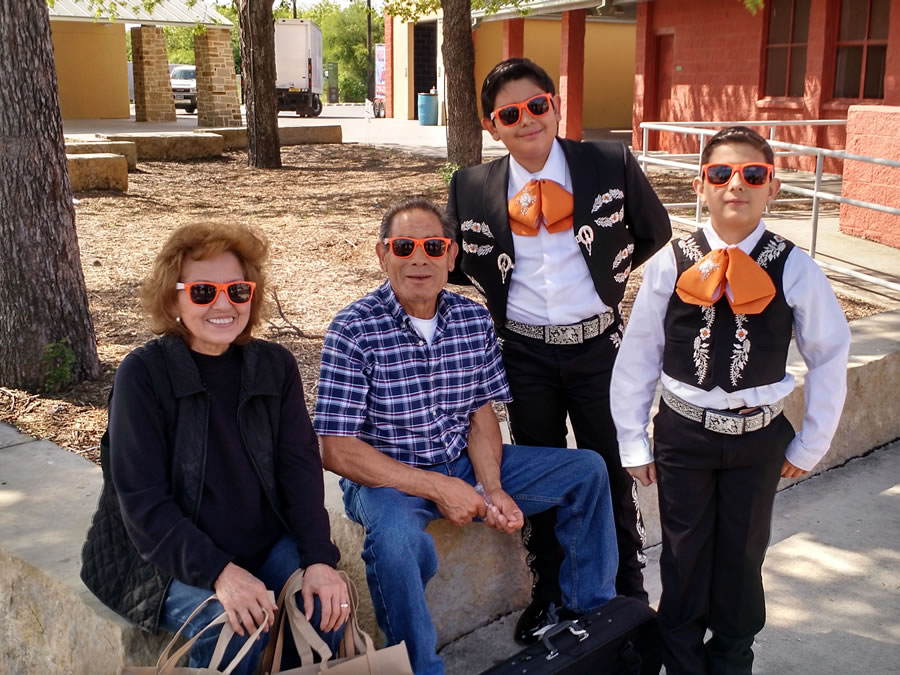 Youth Boat Float Competition
10am-2pm
The San Antonio River Foundation is giving 20 area school and youth organizations a chance to win up to $2,000 in award money. The goal of the contest is simple: use recyclable and reused items to create a vessel that floats. Awards include Judge's Pick and People's Choice, each with a $1,000 grand prize. All selected teams will be given a $100 gift card for supplies from the River Foundation.
A complete set of rules and link to the online application can be found below.
Kayaking Activities
10am-1pm
If you're not an expert, it's not a problem! The Boating for Beginners area is in a calm section of River under the VFW Blvd bridge. Visit the River Authority at their booth, and be directed to the location where you can borrow a kayak for FREE and receive basic kayaking instruction.
All kayakers must be 12 years of age or older. Children under 18 must be accompanied by an adult. A limited number of kayaks are provided for FREE by event sponsor Mission Adventure Tours. Kayaking activities are walk-up, no reservation is required.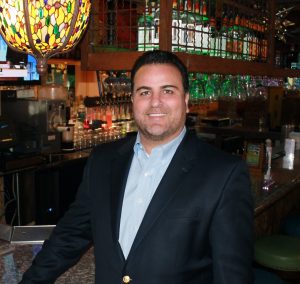 The San Antonio River Foundation and San Antonio River Authority are delighted to introduce you to the 6th Annual Mission Reach Flotilla Fiesta River Monarchs Arthur and Richard Garcia of Nicha's Comida Mexicana.
Arthur Garcia was born and raised on the Southside of San Antonio. He graduated from McCollum High School in 1985 and went on to graduate with a bachelor's degree in Criminal Justice from the University of Texas at San Antonio in 1991.
Arthur grew up working in the restaurant when it was called Minit Taco, and after a few years of pursuing other careers paths following college he finally made it back to the family business in 2001.
Arthur and Richard bought the original location from their parents in 2003. With the great start their parents created, the brothers have steadily grown the business from one 90 seat restaurant to three locations throughout San Antonio.
Arthur is the President of Nicha's Comida Mexicana and is a board member as well as a past president of the San Antonio Restaurant Association. He was awarded Restaurateur of the year in 2017. Arthur also sits on the board of the Texas Restaurant Association.
Arthur and his wife Felicia have three beautiful daughters Amber, Ashley and Alyssa. Amber will be attending college this year at Texas State university. When asked about his connection to the River and his hometown Arthur stated, "Being on the water is an escape for me and the San Antonio river is a beautiful part of our history. Walking down the river with my family or even taking time for myself to see the beauty this river has to offer is very special for me. Our river is a great part of my life and it's something I cherish. I am very proud to call San Antonio my home."
Richard Colton Garcia was born and raised on the Southside of San Antonio. He graduated from McCollum High school in 1982 and is a member of the Harlandale School District Hall of Fame.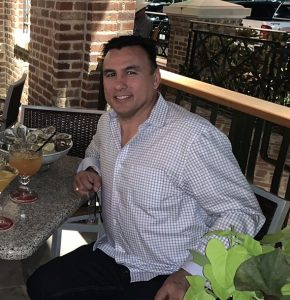 Richard has worked at the original location of Nicha's since 1983 and currently oversees all restaurant operations and is a member of the South San Antonio Chamber of Commerce.
Upon reflecting on his relationship with the San Antonio River he states, "For me, the best thing was the development of the Mission Reach and extending that expansion all the way down to the Mission Espada. Since then I've become an avid cyclist. I like to start at Blue Star and ride my bike all the way down to Mission Espada. One can stay on the bike path or take side trails off road for a fun ride. To change things up a bit I've even gone kayaking, I learned a valuable lesson there – always keep your wallet in a dry container, I learned the hard way! Just recently my wife and I bought take out and impulsively decided to go eat it at a picnic table beside the river, that was a nice day. I see families spending time together near the park, couples jogging together, singles walking with their dog. The river for me is simply a great place to wind down, relax and be at peace with myself."
We are proud to be a part of this year's Mission Reach Flotilla Fiesta and serve as your 2021 River Monarchs!
Arthur & Richard Garcia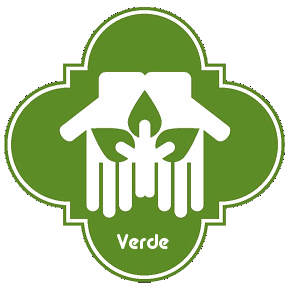 We are excited that the Mission Reach Flotilla Fiesta is a certified Verde event! You can do your part to make this year's Mission Reach Flotilla Fiesta green by taking alternate transportation. Instead of your car, you can take the bus, ride a bike, or walk to the event. If you need to bring a vehicle, it's a great idea to carpool or rideshare!
Recycling another way each of us can do our part to be better stewards of the environment as long as we are careful not to contaminate our efforts. Contamination occurs in recycling when non-recyclables are placed in recycling. Contamination can include anything from food waste to plastic bags.
When a certain percent of a batch of recycling is contaminated, the whole batch of recycling is considered unusable and thrown away. Therefore contamination can undermine the good recycling habits of others and cause easily recyclable items to end up in landfills.
       Thank you for your help in making the 5th Annual Mission Reach Flotilla Fiesta the greenest event yet!

The Mission Reach Flotilla Fiesta is endorsed by the Mayor's Fitness Council. The Mayor's Fitness Council (MFC) is a community-wide collaborative working to increase healthy behaviors and reduce obesity in the residents of San Antonio.
With 8-miles of hike & bike trails, grand pavilions, overlooks and new water edge landings for paddle watercraft and other outdoor recreation amenities. The Mission Reach encourages health, wellness and environmental stewardship.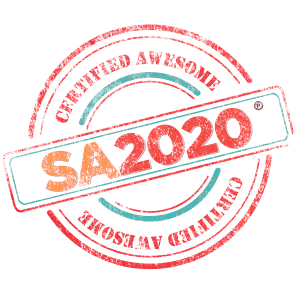 The Mission Reach Flotilla Fiesta is endorsed by SA2020. SA2020 drives progress toward a shared vision for a thriving San Antonio.
The Mission Reach Flotilla Fiesta Supports the efforts of SA2020 by promoting Environmental Sustainability, Health& Fitness, and increasing the walkability of our neighborhoods.
Thank you for considering a Mission Reach Flotilla Fiesta sponsorship! We are offering many sponsorship levels, each with numerous benefits. For questions, please contact Albert S. Carmona at 210.224.2694 or Albert@SARiverfound.org.